Carl Pool develops fertilizers you can count on. We work every day to make sure that our fertilizers are the highest quality. Each and every fertilizer has been designed by our team of experts in horticulture. For more than sixty-five years, Carl Pool has developed a reputation for superior fertilizers while producing many industry firsts. Carl Pool's innovation in fertilizer is second to none, and we fully guarantee that our products will deliver full performance and live up to your expectations.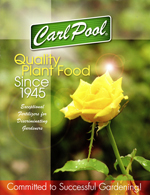 Carl Pool's distinct, special-use formulas are made from the highest quality nutrient sources and are quickly absorbed through roots and leaves. Retail sizes are packaged in weatherproof, plastic containers with full color labels, allowing customers to choose from the widest product line available to suit their particular needs. Carl Pool water soluble plant foods can be applied with any no-clog hose-end sprayer for the customer's convenience while Carl Pool's top quality components and full micro-nutrients give superior results.
Give your plants what they deserve.
Give them Carl Pool.
BR-61, The Original
Try it now and you will see
why home owners have used
it for over 50 years!
IRON CHELATE 11%
• Reduces chlorosis in plants & turf
• Rapidly absorbed for a quick response
• Especially effective in alkaline (high pH) soils
• Can be applied to the soil or as a foliar application to produce greener leaves and enhance growth
• Provides the iron that is essential for the
development of chlorophyll
Non Staining Iron Formulation!
We provide growers with a full range of specialty formulations to fit any growing requirements. If you need a custom blend, Carl Pool has the expertise to design a formulation tailored to your specific growing conditions based on water and soils analysis, as well as the plants you grow. Special orders and drop shipment are available on our grower products.
Looking for a water soluble Micro-Nutrient Package? Look no further. Try Carl Pool's HITS. HITS, or High Intensity Trace Solubles is the micro-nutrient package for the professional grower. Created to work in your injection system, HITS will give your plants the micros they crave.
HITS
| | |
| --- | --- |
| Sulfer (S) | 15.700% |
| Boron (B) | 1.500% |
| Copper (Cu) | 3.300% |
| Iron (Fe) | 8.000% |
| Manganese (Mn) | 8.200% |
| Molybdenum (Mo) | 0.028% |
| Zinc (Zn) 4.600% | 0.028% |
(Do not use Molybdenum on fields with ruminant animals)