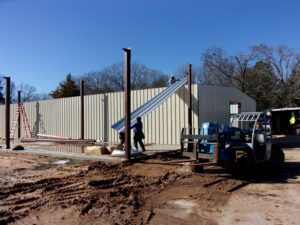 We have completed the building of a new storage warehouse at our production facility in Gladewater, TX.  As sales of Vitazyme and Carl Pool fertilizers have risen over the past months and years, the need for increased storage space has become critical.  So to meet this need, a 50 x 99 foot building has been constructed by Red Dot Buildings. This added warehouse will help reduce lead times, as we can store more raw materials and be less reliant upon supplier production schedules.
Additionally, we have constructed a series of bulk storage bays outside the building for lime and other bulk materials. We continue to look to the future, and to surmount obstacles to serve our growing customer base both here and abroad.
Warehouse space serves a number of important factors which go beyond storage. It frees up space to add production equipment. It keeps the workspace freer for internal traffic. And, it keeps us from needing to move some materials off site. All of this increases efficiency, and when we are more efficient, our customers will enjoy the benefits of this increased performance.