Vitazyme is an all-natural liquid biostimulant, consisting of particular biological activators that are created through a proprietary fermentation process. These active agents include vitamins, enzymes, triacontanol and other powerful but gentle growth stimulators.
• INCREASE CROP YIELDS AND PROFITS




• IMPROVE CROP QUALITY




• REDUCE FERTILIZER NITROGEN INPUTS




• HASTEN GERMINATION AND MATURITY




• IMPROVE SOIL STRUCTURE AND INFILTRATION
Vitazyme represents a breakthrough to larger, more profitable crop yields, and healthier plants while promoting a more sustainable approach to agriculture.
We offer both an OMRI certified Organic Vitazyme as well as our original Vitazyme Green formula, which contains micro-nutrients.  Organic Vitazyme is an approved material by both BCS and OMRI, as well as Washington (State) and California.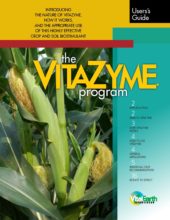 Available Sizing
1 Liter – 12/Case        20 Liter Stackable Jug
1 Gal  – 4/Case           55 Gal Drum
5 Liter – 4/Case          275 Gal Tote
2 1/2 Gal – 2/Case     330 Gal Tote