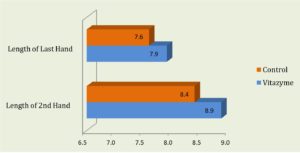 2019 was another excellent year of crop studies for Vitazyme, once again proving it efficacious in both producing greater yields and improving profit margins. Vitazyme was tested in a field study on Banana Crops in the Dominican Republic and showed stunning success, as it has done so on countless crops.
Dominican Republic Banana Test Results
Trial Results
A cost-profit analysis was also calculated using the data accumulated from the scientific study. The results show an astounding net profit increase of $1730 per hectare with the addition of Vitazyme.
Conclusions
By making two Vitazyme applications at 1 L/ha each, with a one-month interval, an average increase of bunch weight of 4.5 lb (10.2%) above the farm control was achieved.
Applying Vitazyme increased the fruit finger caliber of filling from 0.5 to 0.7 grades above the Control.
The length of the banana hands, with Vitazyme, increased from 0.3 to 0.5 cm over the Control.
The overall cost per hectare of the Vitazyme program was US $40 (US $20 per application), to produce 221 cases per hectare (10.1%) above the Control. This resulted in a net profit increase of $1730 per hectare.